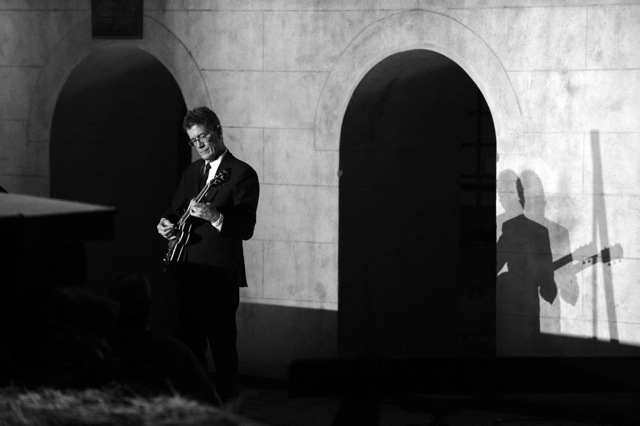 "It's the kind of book I tried to find but couldn't when I was learning to play in this style, and I hope that players find it valuable and fun to dig into."
NOW AVAILABLE IN THE JON HERINGTON ONLINE STORE AND AT AMAZON.COM

I Wish I Knew * Angel Eyes * 'Round Midnight * Love Theme From Spartacus * Both Sides Now * The Shadow Of Your Smile * Prelude To A Kiss * Happy Days Are Here Again * Autumn Leaves * Invitation * My Funny Valentine * When Sunny Gets Blue * Young And Foolish * Lover Man (Oh, Where Could You Be?) * Over The Rainbow * The Summer Knows * If * Here's That Rainy Day
"I discovered the unique "chord melody" style of solo jazz guitar many years ago when I began studying with the late, great guitarist Harry Leahey, who had studied this particular art with the late, great guitarist Johnny Smith. It was the dawn of a new world for me. This way of playing struck me with such force that I quickly became obsessed with it as well as with the desire to explore everything that was possible to play on the guitar. "Arrangements for Guitar" is the result of many happy years of my exploration of this challenging and rewarding approach to playing the guitar.

Some of these arrangements present particular technical challenges (mostly for the picking hand) and were created with the double intention of music-making and technical study in mind, like an "etude." (A precedent for this can be found, I think, in Johnny Smith's beautiful arrangement and recording of "Golden Earrings.")

I'm grateful and indebted to Harry and the many guitarists who have arranged and performed in this style, as well as to pianists Bill Evans and George Shearing, whose re-harmonizations of "Young and Foolish" and "Happy Days Are Here Again," respectively, provided the harmonic basis for the arrangements of those songs here."